Pose a simple question to Dave Asprey, the founder of Upgrade Labs and the self-proclaimed father of biohacking, and you may get a complicated answer. Like, how old are you? "I identify as 28 percent old," declares the smooth-faced and serene Asprey as he perches on a couch in his Santa Monica, California, biohacking studio, puffing on a vape now and then.
Huh? "I'm going to live to be 185. Chronologically I'm 49, but I'm 11 years younger biologically," he adds to explain, although how that math works out is a mystery. "Our current best is 120. Of course we're going to do this," he says about increasing longevity, and he's not the least bit afraid of living too long in a burning world. "I'm exceptionally excited about it. Let's just make old people young. We can do it."
Asprey is well-known in the field of biohacking, a term attributed to him when it was added to the Merriam-Webster dictionary in 2018, he says. His "The Human Upgrade" show is tops on YouTube; he's the author of four New York Times bestselling books, including "Superhuman." With Upgrade Labs, the franchise just beginning to roll out, he's hoping to take the "art and science of improving your biology"—his definition of biohacking—to the masses.
Upgrade Labs is far from alone in an exploding franchise space. Serotonin Centers, for example, is billed as "the nation's first human longevity franchise" with the aim to "slow down the human biological clock." QC Kinetix takes "natural biologics" from the customer, which means blood or stem cells, and injects them into those aching baby boomer joints. Restore Hyper Wellness, with more than 130 units in 34 states, offers hyperbaric oxygen therapy and cryotherapy, among others.
In a fast-growing variety of new-age wellness brands, franchised or not, you can get a hormone pill inserted under the skin for a mood booster. An IV drip could rev up your sex life. A weighted sleeping bag can crush your legs and stomach to pump lymphatic fluid into the upper body for detoxing. The introduction of healthy fecal matter into the system can improve gut health, or so the icky story goes.
Does any of it work? The founders of the brands—at least a dozen wellness franchises have popped up in the last few years— and their fast-growing number of franchisees believe so. All are quick to add they are prohibited by the FDA and other agencies in what they can claim.
Why are these services so alluring? Because they promise eternal life? Because our healthcare system is broken? Because traditional Western medicine is unaffordable and doesn't work? All of the above, devotees might say, about a niche that could be called wacky or wondrous or maybe a little of both.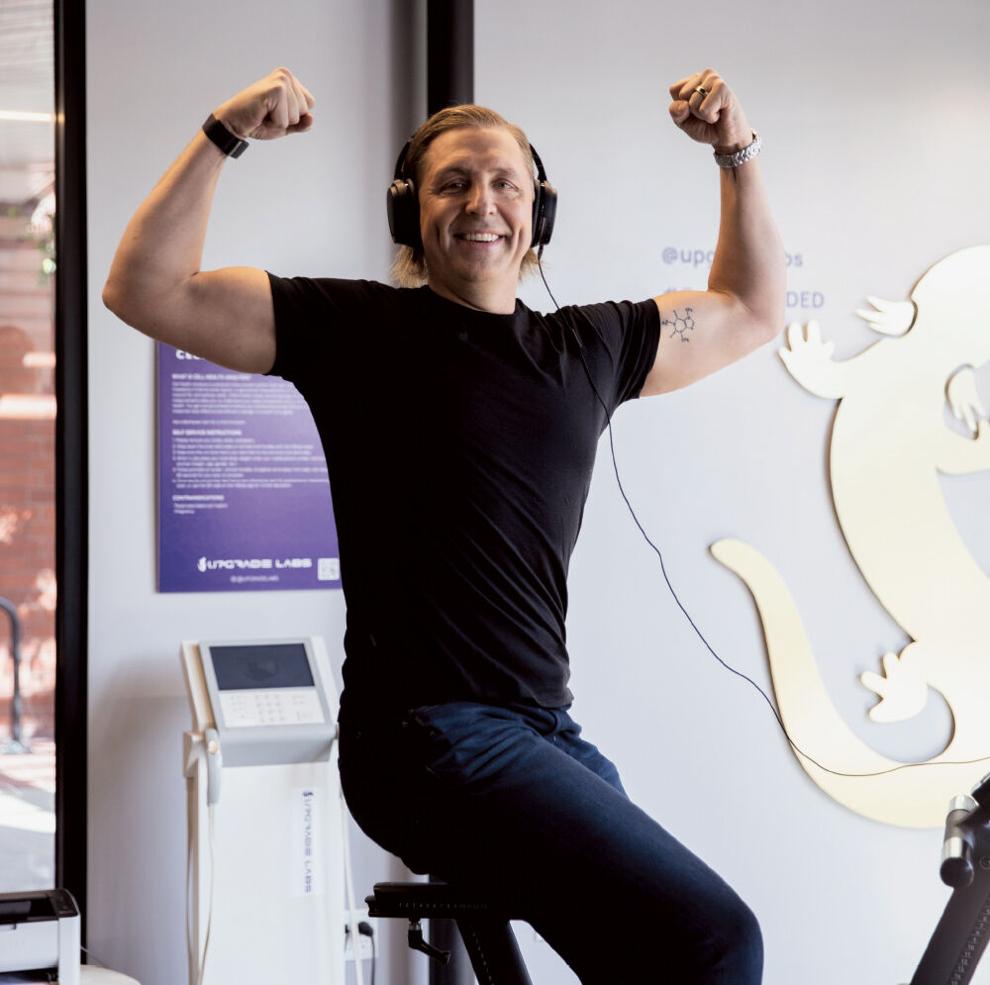 Dave Asprey 'willing to be a guinea pig'
Dave Asprey, the founder of new franchise Upgrade Labs, has tried just about everything to biohack his body for peak performance. He pops 100 pills a day—at one time including vitamins like B12, K1 and D3, plus "smart drugs" like Ciltep and aniracetam to improve cognition—loading them in one hand and tossing them back all at once. "I remember my college days, when we did beer bongs," he told Men's Journal. "It's just like that."
What's the weirdest thing he's tried? Concerned about his digestive system, and as a computer hacker knowing electric currents play a role in any network, "I got a pill from Russia with a battery and two electrodes, and I swallowed it," he recalls. For two days it moved around, "lighting things up." Did it work? "I don't think so but it got stuck by my nerve in my left leg, and the leg was kicking up all the time. I'm willing to be a guinea pig."
Desperation was his original motivation. "I used to weigh 300 pounds. I had the diseases of aging before I was 30," he says, such as diabetes and hypertension. "I started running an anti-aging group in the Silicon Valley," where he worked as a computer wiz.
All the members were in their 60s and older and had five times his energy, he says, so he started interviewing them about their methods. After making Bulletproof Coffee a success—his former company that sold yak-butter coffee, which he discovered on a meditative and climbing retreat in Nepal— he began buying and testing pieces of equipment to use in his home.
"I've tried 20 different technologies. It's like a playground for adults," he says about his studios in Los Angeles and Victoria, Canada, and he decided he wanted more than elite athletes and astronauts and hedge fund managers to have access. "I want to bring this to the world."
The regular mantra of "diet and exercise" just wasn't cutting it, nor was the shame he felt when those methods didn't work. "When I was 22/23, I'd had three knee surgeries. I'm going to the gym every day. I was sitting at Carl's Jr. and I ordered chicken salad with no chicken and no dressing," and meanwhile his friends were wolfing down the big burgers "and they weighed half of what I did. I thought, it's not me, it's my body," he says.
"Turns out all the things I've been told about diet and exercise were just not true. Our bodies are elegantly designed to respond to a signal to change. We're using AI and machine learning to get a very pure signal" sent to your body so it heals faster, or to your brain so your thinking is clearer, or to your skin so it looks smooth.
"So it took us about seven years to build a business around it," he says, and the new franchise will include machines to address such common health issues as energy levels, brain power, muscle building, recovery and stress and resilience.
Take The Big Squeeze, for example, a medical grade compressor that pushes cellular waste from the lower body to the upper where it gets flushed out through the kidneys. Bryan Torrellas, assistant manager at the Santa Monica studio, helps me into an oversized pair of white pajama-type pants and zips me into the compressor, which looks like a sleeping bag with separate legs. The crushing feeling starts at the toes and works up through the abdomen, then down again, like the most intense massage ever.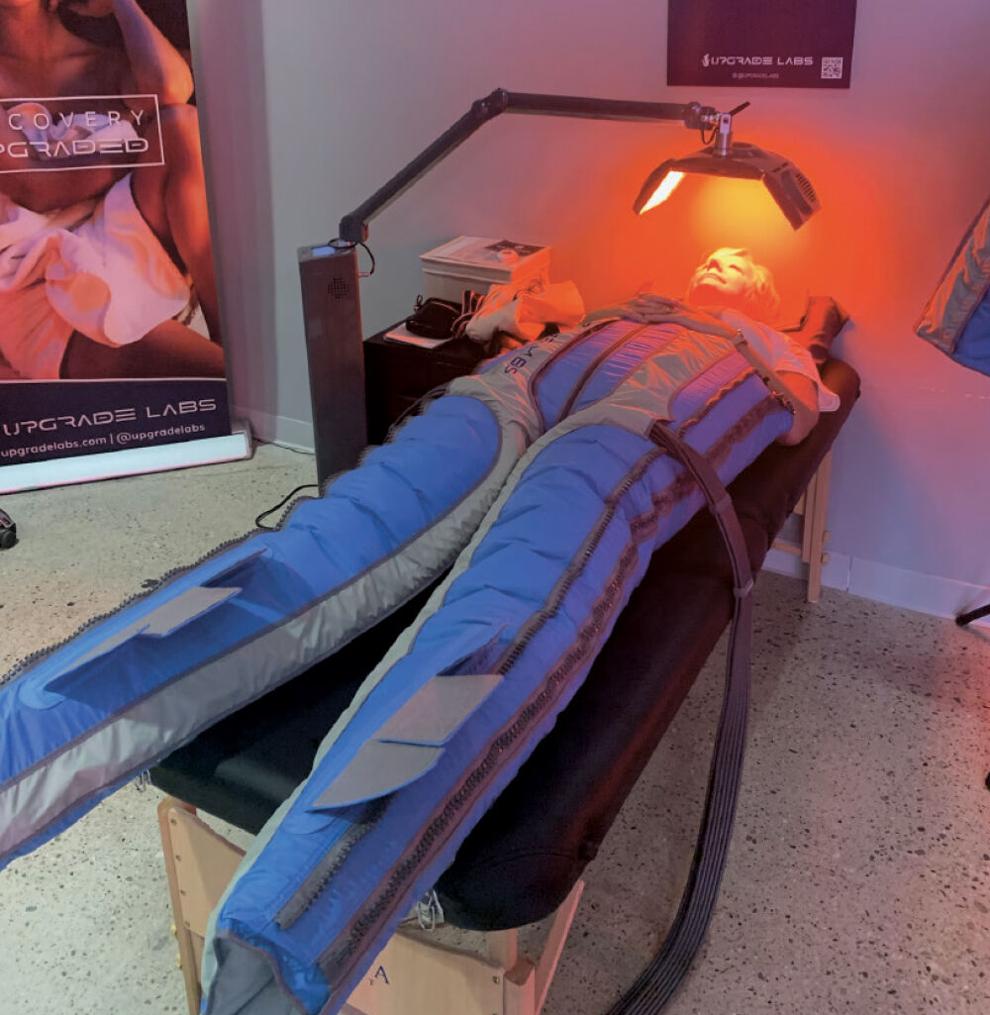 The Cheat Machine is based on adaptive resistance, Torrellas says, so if you use 50 percent of your maximum ability to push the weights out, it adds 50 percent of resistance on the way back. "It can add up to a week's worth of lifting in 15 minutes," he says.
The Cold HIIT uses cold compresses around your thighs and upper arms to mimic the beneficial hormone-boosting effects of a long workout in 20 minutes, he says; after the workout, you lie on a cold bed so the lactic acid in your muscles disperses quickly and evenly to avoid soreness.
When new clients come in, they step on a machine that analyzes the health of each individual cell and prints out the results, which "biohack techs" then use to create a program based on the client's goals.
Range of investment to start an Upgrade Labs is $663,000 to $1.07 million; unlimited-use memberships in the Santa Monica studio cost $499 a month, but that amount will be lower in the franchise model because not all the equipment in that studio will be in the franchise store. A rendering is not yet available for the new model, which will feature greenery and open spaces, says Ashley Costantino, a recently hired marketing executive for Upgrade Labs.
Three agreements had been signed as of mid-March, in Boise, Idaho; Salt Lake City; and Nashville, Tennessee. Early adopters are fans of Asprey's "Human Upgrade" and other offerings. "Dave has a big following and people trust what he does," she says. Costantino was with Xponential Fitness, marketing several of its fitness concepts including Row House and Club Pilates.
Efficiency is the name of the game for Upgrade Labs, Asprey says, because who has the time for the regular way. "What's the return per minute you spend here?" is the question front and center. "Based on your goal, we create a menu for you to get there the quickest."
"It's been a 20-year journey," from an unhealthy youth to today, which he says was eventually determined to be caused by toxic mold in his household as a child.
At 6-foot-4, "I weigh 220 and I'm around 11, 12 percent body fat. I did all the stuff that was supposed to work back then. Low-fat diet, an hour and a half in the gym six days a week. I'm mad about that. I want that time back," he says.
Asprey was an avid reader of science fiction in his youth, and notes things in those books are now coming true today. "My grandmother was a nuclear engineer. My grandfather worked on purifying plutonium." Asprey Labs at Vassar is named for an aunt who worked there, he says; another aunt taught computer science at Stanford.
"I had a computer when I was 8 years old, before DOS," which is saying something for someone who is 49—or 28 percent old—today. Albuquerque and Roswell, New Mexico, were the cities where he grew up. "I've got aliens and radiation in my makeup so that explains everything," he says with a laugh.
As for other franchises popping up in the wellness space, or even the wide adoption of the term he says he coined—biohacking—in 2011, he's all for it. "I'm happy to be a curator of awesomeness," he says.
"A lot of people worry: what if everyone who goes to Upgrade Labs lives 25 years longer?" What will happen, he says people ask. "It's going to do great things for the world," creating a group of village elders with peak wisdom to guide the rest of us. "If you live to be 180 you're not going to throw that bottle in the ocean."
He broadens the point. "Life on Earth will be here forever." The question is, will humans be part of it? "It's up to us to take control of ourselves. It's my moral responsibility to turn your energy on all the way so you can do what you're supposed to do."
---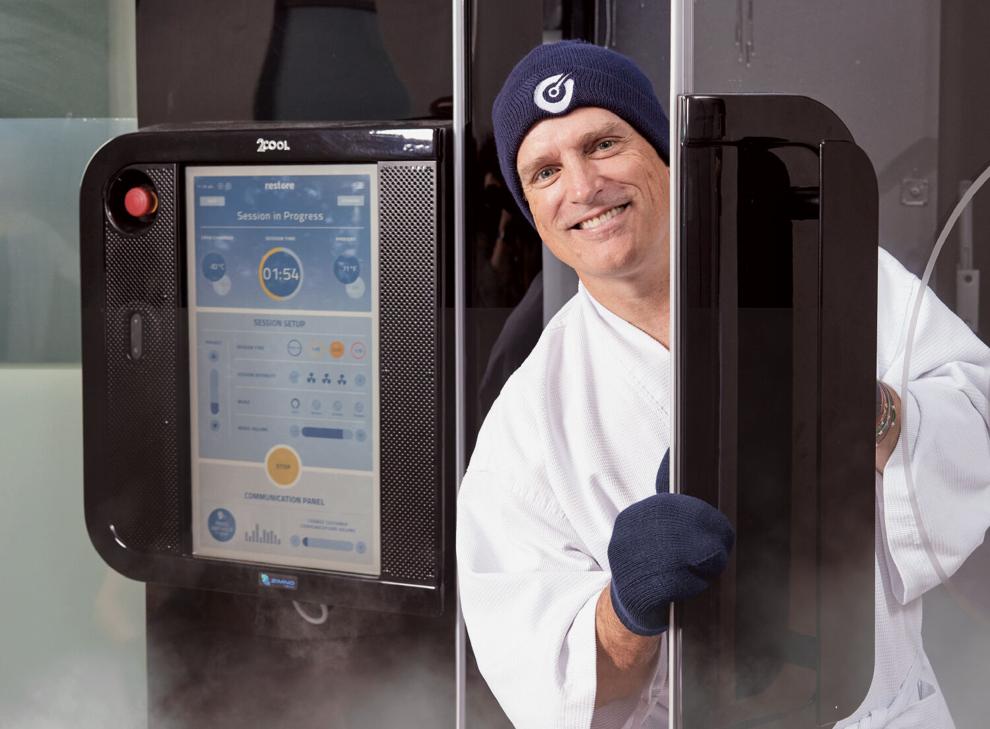 ---
Restore and 'the cultural zeitgeist'
Jim Donnelly partakes in every service offered at Restore Hyper Wellness—and some the Austin, Texas-based franchise doesn't provide.
"There's this whole notion of gut health and you go out to California and you can put sort of the fecal matter of a healthy gut into your system to hopefully improve your gut health," says Donnelly, Restore's co-founder and CEO. "That's probably a little too far for me. But I've done it, yeah."
Restore, launched in 2015 by Donnelly and Steven Welch, co-founder of venture capital firm DreamIt Ventures, began with a focus on whole body cryotherapy, IV drips and hyperbaric oxygen therapy. They've since expanded the services and the unit count, to 138 locations that now list photobiomodulation (red light) therapy, intramuscular shots, Cryoskin treatments and more on the menu.
Donnelly, whose background is in building technology and software companies, talks about several macro factors—Obamacare, the opioid crisis, disillusionment with pharmaceutical companies—as influencing a broader shift in how Americans think about health and wellness.
"There were cryotherapy places popping up all over the place. There were IV places popping up all over the place. But it was all just such an underwhelming experience. The retail environments were underwhelming, it was way overpriced," says Donnelly. "I was thinking to myself, I'm a pretty affluent guy, relatively speaking, I've sold a couple companies. I have a hard time paying this much for it, even though it makes me feel really, really good. How can normal people, you know, your man on the street, afford to pay this?
"And I didn't find that the folks doing it had a deep enough knowledge of the potential. So all of those things were where I found my inspiration."
Donnelly's goal is to "democratize" wellness by making it more affordable and accessible. When he started Restore, "finding cryotherapy for less than 50 bucks was unheard of." Restore members can buy single cryotherapy sessions for $27, and memberships start at $99 per month. On the more expensive end, members pay upwards of $2,000 for a four-pack of NAD+ IV drips. Short for nicotinamide adenine dinucleotide, NAD+ is added to an IV drip, the goal being, according to Restore's description, "to help the body clean house of cellular components that may be damaged."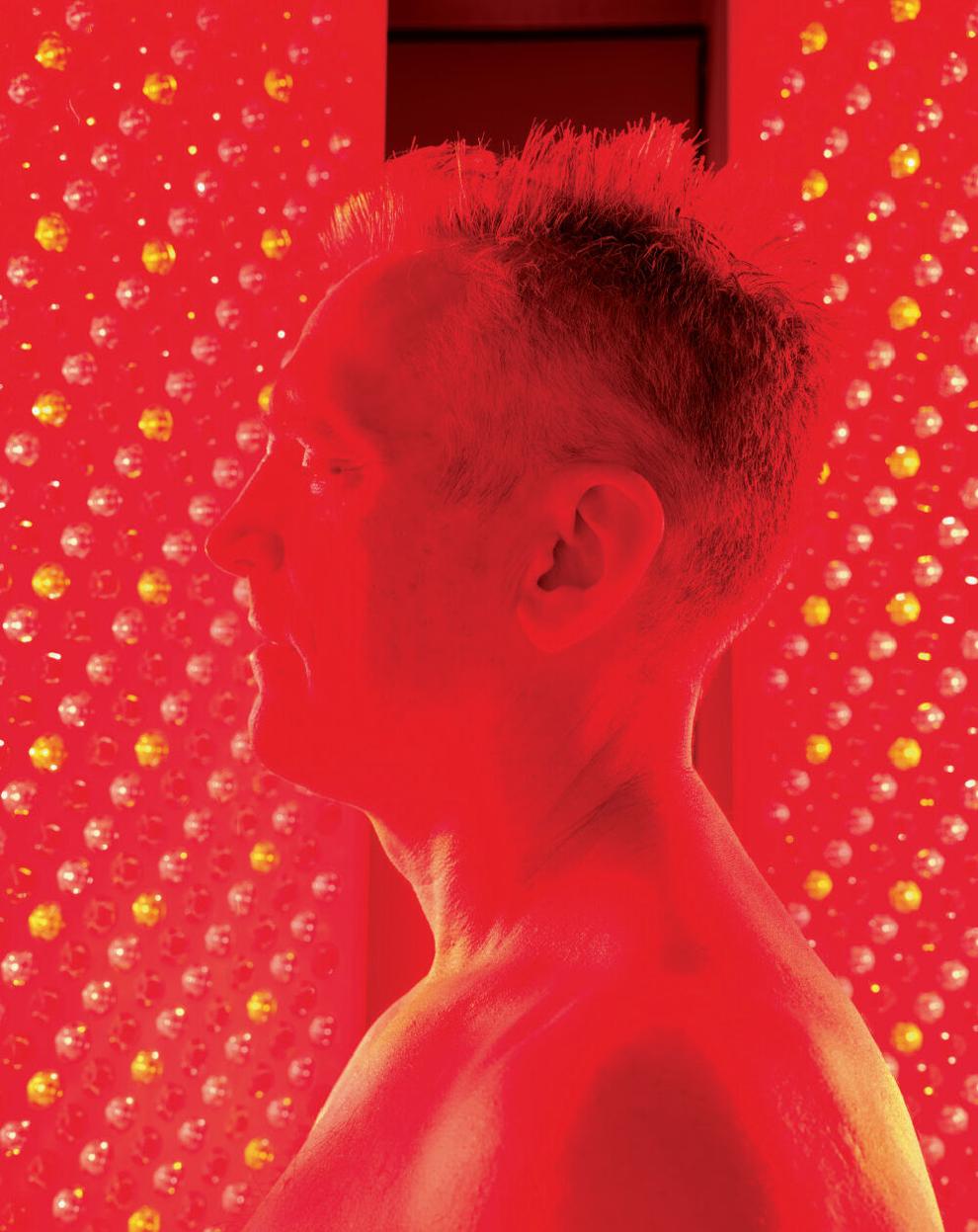 "The way I describe NAD to someone who hasn't done it is, think of doing a five-day cleanse in 30 minutes. So all of the things that go with the cleanse, the way it affects your body, you know, now I'm not drinking coffee and that makes me feel badly. All of those sorts of things get condensed into a 30-, 45-minute period," explains Donnelly. "The second it starts, it's miserable. The second it ends, it's incredibly pleasant."
The IV ingredient combination Restore uses, notes Donnelly, was developed through its Restore Labs, the research and development facility it opened in 2020. Its proprietary, electric-powered whole body cryotherapy chamber also evolved from the lab, and the company owns a manufacturing facility in Poland that supplies the massive machines. Why Poland?
"The center of excellence for cold technology is oddly enough in Poland. So liquid nitrogen came out of Poland. There are degree programs and the best schools, Ph.Ds., master's degrees, all around cold technology in Poland, so you get the best engineers for cold-related products in Poland," says Donnelly. "And they're super passionate about it. They are literally passionate about cold technology."
Restore's investments in product development set it apart in the franchised wellness space, Donnelly believes, as does its emphasis on "layers of safety," including a registered nurse in each store, client consultations with a nurse practitioner and a medical director overseeing stores in each market. It's also pushing the science and benefits of the modalities to the forefront, albeit carefully.
"This category is becoming bigger; we're touching more people. There's a responsibility that comes from that. No. 1, you've got to talk about it in the right way—you can't make ridiculous claims about what these things do for you," says Donnelly. "They do wonderful, amazing things for people, but don't talk about them inappropriately. Why? No. 1, it's inappropriate from a customer perspective, but also, the FDA, the FTC, these are real things."
The company last year hired Dan Pardi as chief health architect. Well known in the health behavior world and founder of HumanOS.me, a digital health training application, Pardi has a master's degree in physiology, a doctorate in neuroscience and he helped create the medical and scientific affairs department at Jazz Pharmaceuticals to "provide scientific support for products on the market."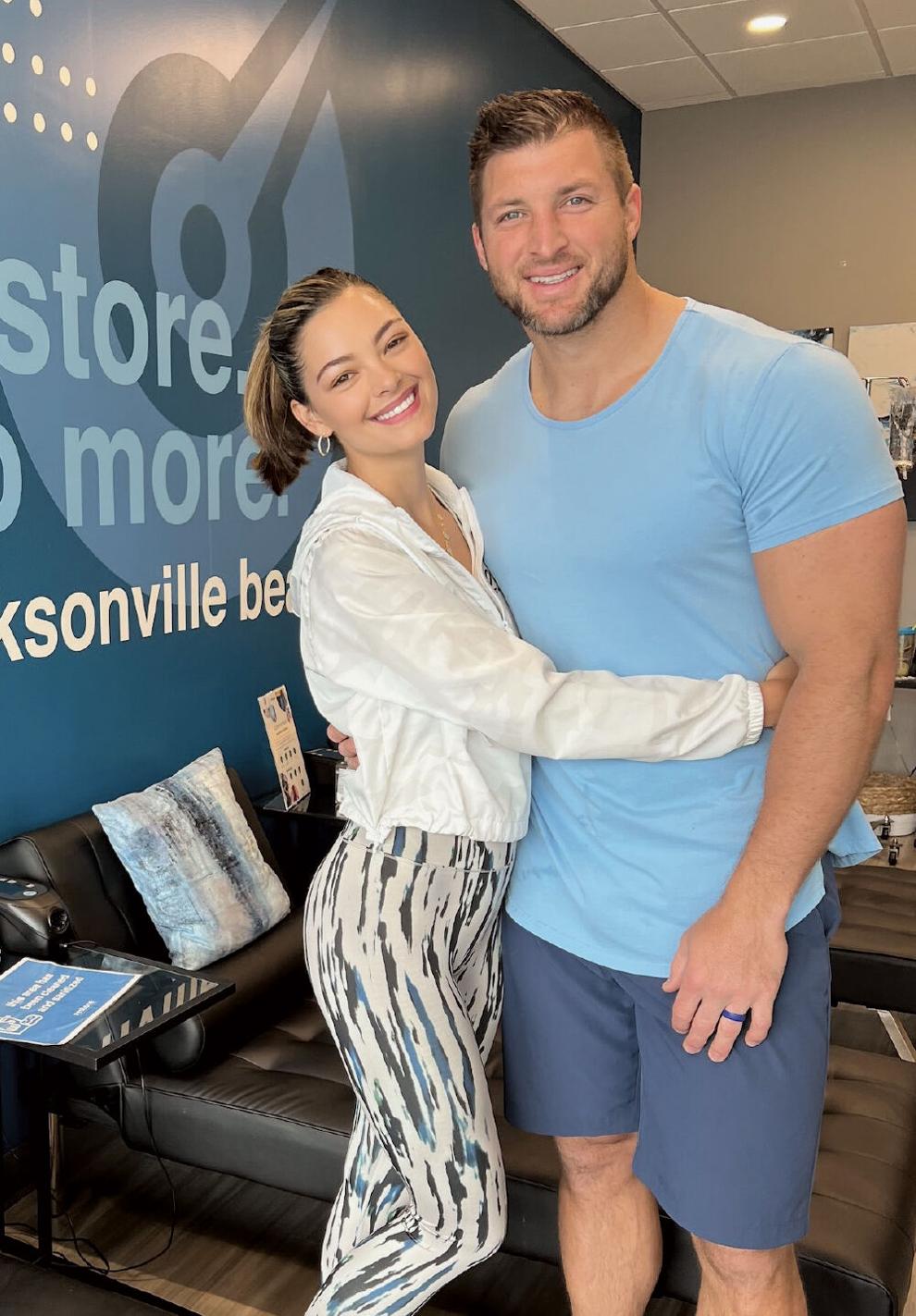 Pardi describes his role at Restore as creating "almost like a North Star that helps align all the things we do." That includes articulating the value of services, promotion and marketing, and evaluation of products. The modalities offered at Restore have "a burgeoning medical base that shows these have positive effects on health," he says, despite some not being approved by the Food and Drug Administration. Restore doesn't make medical claims and instead focuses on health promotion and "helping your average person who is interested in being healthy to actually do that."
He and Donnelly have ambitions to create a digital health platform so clients can track their health evolution and Restore can demonstrate outcomes from its services. The company is "investing tens of millions of dollars in technology," says Donnelly, and the digital platform, says Pardi, could "turn someone from a dabbler into a lifetime member."
Restore received its own multimillion-dollar investment last year when it attracted $140 million in Series C funding, led by growth equity firm General Atlantic.
"It validated everything we set out to do," says Donnelly. "It showed the world we're a potential category changer." Bloomberg reported in December Restore is valued at more than $500 million.
General Atlantic's investment round will help Restore expand its footprint—a new unit opens every three or four days—and Donnelly says the company is making additional investments to improve the user experience.
The average unit volume for franchise locations was $661,862 in 2020, and Donnelly says Restore's updated franchise disclosure document will show even better unit economics. "What each cohort shows is stores open at higher levels from the beginning and they grow faster. That has been true of every yearly cohort since the day we opened," he says. "And it's been a pretty significant improvement year to year. And you'll see that again this year."
The cost to open a Restore ranges from $464,703 to $998,029, and the company drew its first round of franchisees from among elite military academy graduates (Donnelly's wife is a West Point grad) and medical device company execs. Now, says Donnelly, many franchisees come from other systems such as Orangetheory Fitness and European Wax Center.
Another potential franchisee is Heisman Trophy winner and former NFL quarterback Tim Tebow, who with wife Demi-Leigh invested in Restore and signed on as brand ambassadors. The pair, said Donnelly, could become franchisees and open Restore units in Southeastern Conference cities such as Gainesville, where Tebow played at the University of Florida, and in markets such as Oxford, Mississippi, and Baton Rouge, Louisiana, both home to SEC schools.
The Tebows "have an authentic relationship" with Restore, says Donnelly, and use services at the brand's Jacksonville Beach, Florida, location. They're the company's first official spokespeople and Donnelly hints more athletes will show up in marketing campaigns. "A whole cadre of famous people will be coming out," he says.
It's all part of a big brand awareness push for Restore that includes ads on streaming services such as Hulu, social media campaigns and much more, with "millions of dollars" spent on marketing. "This is the year Restore enters the cultural zeitgeist," he says.
---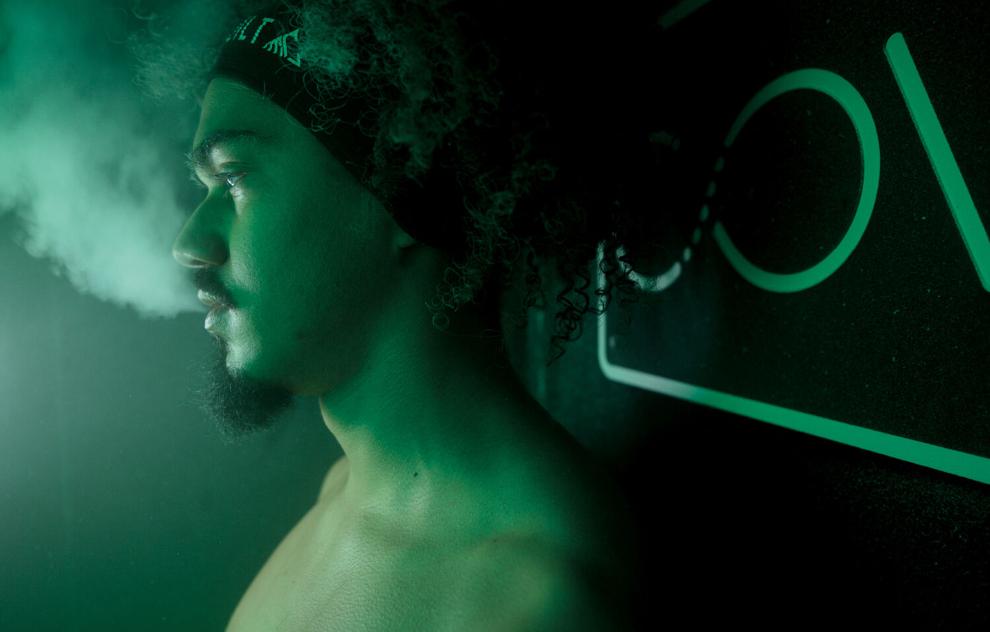 ---
A roundup of new-age wellness concepts
Upgrade Labs has the most famous founder and Restore Hyper Wellness is the furthest along in its franchise sales and capital formation. But many more new-age wellness concepts are flooding the franchise space. Here are some of the contenders:
After launching Regymen Fitness in 2018 and growing it to 30-plus locations, Edward Navan began paying more attention to the world of trendy wellness services, which he saw as complementary to fitness and recovery. "There's an entire lifestyle to wrap around this," said Navan, and he's looking to do just that with The Covery, the wellness spa concept he started in 2019 and is now franchising. Its three open locations—two corporate, one franchise—offer IV infusions and cryotherapy, practically table stakes in the segment, alongside the Ballancer Pro and futuristic-sounding BioCharger.
The Ballancer Pro is a compression therapy system Navan notes is FDA-cleared and is both "the official recovery tool of the NFL and biggest beauty tool in Europe, it gets rid of cellulite." Twenty-four chambers of air compression work their way up body, "removing toxins so you can excrete them," he explained.
The BioCharger is described on its website as "a hybrid subtle energy revitalization platform." What? It uses light, voltage, frequencies and harmonics, and pulsed electromagnetic fields, explained Navan, to help with everything from muscle recovery to brain fog. Still, what?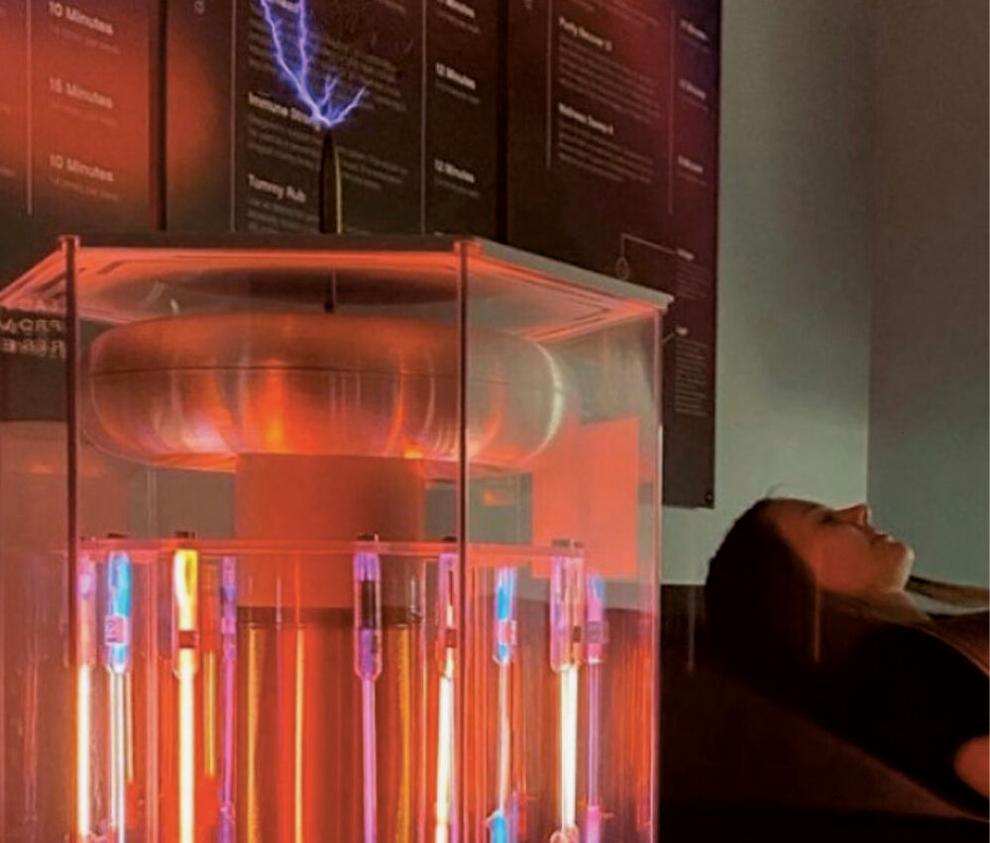 "You just sit around it," he said when asked how the service is administered. "As long as you're in 5 to 6 feet of it, you're in the energy field. It's insane. It's one of the most innovative technologies we have."
The Covery's initial investment range is $281,000 to $678,000, and franchisees can start with IV drips and other lower-cost modalities such as red light and compression therapy, said Navan, before adding more complex—and expensive—services.
Samael Tejada founded Liquivida Lounge in 2013 before opening its flagship location in Coconut Creek, Florida, the following year. The alternative medicine franchise offers IV drip therapies in addition to weight loss, lab testing and hormone optimization.
Tejada touted amino acid treatments for sexual health that "stimulates the body to do what it needs," he said. "There's one that's FDA-approved for females with hyposexual desire. After the injection, you're ready to go within a few minutes. The other works on a man … for a guy it takes two to three hours to be ready to go."
The brand has 11 locations in four states and another four in development. The typical square footage is around 1,500, and the total investment ranges from $365,000 to $550,000.
Tejada said most competitors may have some services Liquivida offers, such as Botox and regenerative medicine, but they don't have other components such as hormone replacement therapy or medical weight loss. "Rather than going to another competitor for a service we don't offer, we're offering them all under one umbrella," he said.
Being early to the space presents benefits and difficulties, including educating consumers on the safety of the products and building trust. "Ten years ago, you say you inject this stuff, people freak out and think it's drug use," Tejada said. Now, they've "created a brand where people trust you to inject something directly into their veins."
Liquivida Lounge is far from alone in the IV drip category. Along with DripBar (see sidebar nearby), there's a whole host of franchises with needles at the ready. With names such as Reviv, Thrive and Hydralive, they offer an array of IV cocktails primed to help customers remove toxins, add nutrients and recover from just about everything: jetlag, hangovers, a stressful day—you name it. Most have fewer than 10 units and investment ranges starting around $200,000.
Vida-Flo is one that leans more med spa and offers medication such as Zofran (for nausea), and Toradol (for pain relief) via IV drip, alongside concoctions for an immunity boost or to promote healthy hair, skin and nails. In addition to its seven locations, Vida-Flo offers mobile units as part of the model and has an investment range of $209,350 to $349,500.
Further on the medical end of the spectrum, QC Kinetix calls itself a regenerative medicine concept and it has more than 60 locations. It provides treatments for numerous types of musculoskeletal and joint pain stemming from injury, arthritis or other chronic conditions, and patients "come to us after being told they need a steroid injection, physical therapy or even surgery," said CEO Justin Crowell.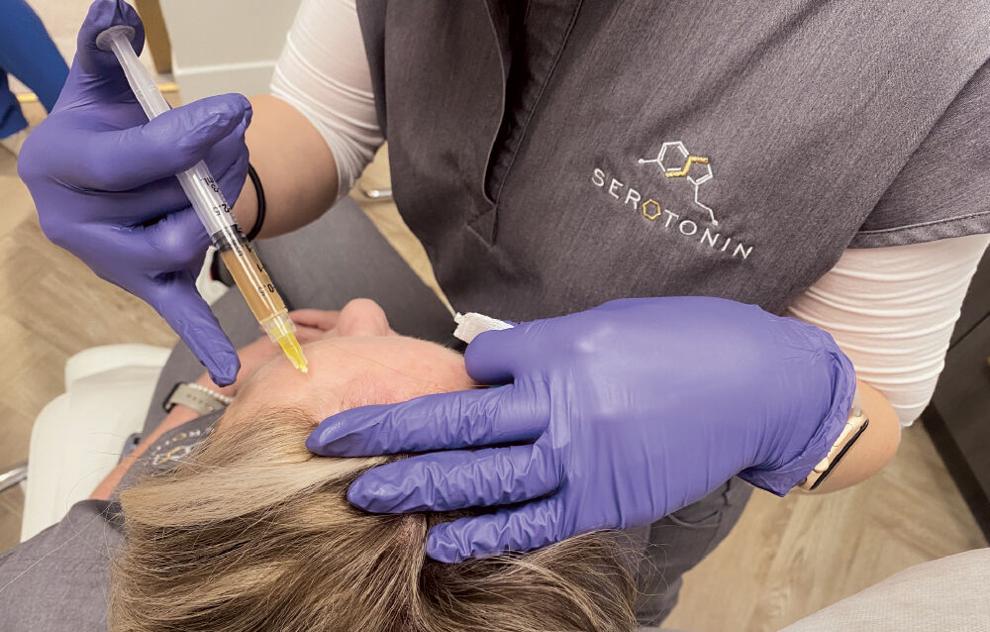 "We use natural biologics from them," the patients, said Crowell as he described the treatment approach. "We are taking either blood or stem cells from the patient and distilling the cells … and injecting it into the joint."
QC Kinetix wants to coin the term "natural biologics," Crowell later said, because the treatment options range beyond stem cell therapy to include therapies such as platelet-rich plasma injections for meniscus tears.
With its retail medicine model, QC Kinetix is a cash business, and clinics don't work with insurance companies. "The average patient spends $10,000 for a treatment plan," said Crowell. "It's not always for everybody, not everybody believes in it and not everybody can afford it … it's a unique business model, but it works for us."
Item 19 of the company's FDD reports gross revenue ranged from $1.06 million to $1.5 million at five corporate clinics open January 1-December 31, 2020, and an analysis of gross revenue from January 1-March 31, 2021, shows 11 company-owned clinics averaged $296,769. The initial investment range is $159,030 to $300,230.
Founder Eric Casaburi touts Serotonin Centers as "the nation's first human longevity franchise." In addition to hormone testing and hormone replacement therapies, Serotonin Centers provide weight management treatments, facial fillers such as Botox and micro-needling with platelet-rich plasma.
---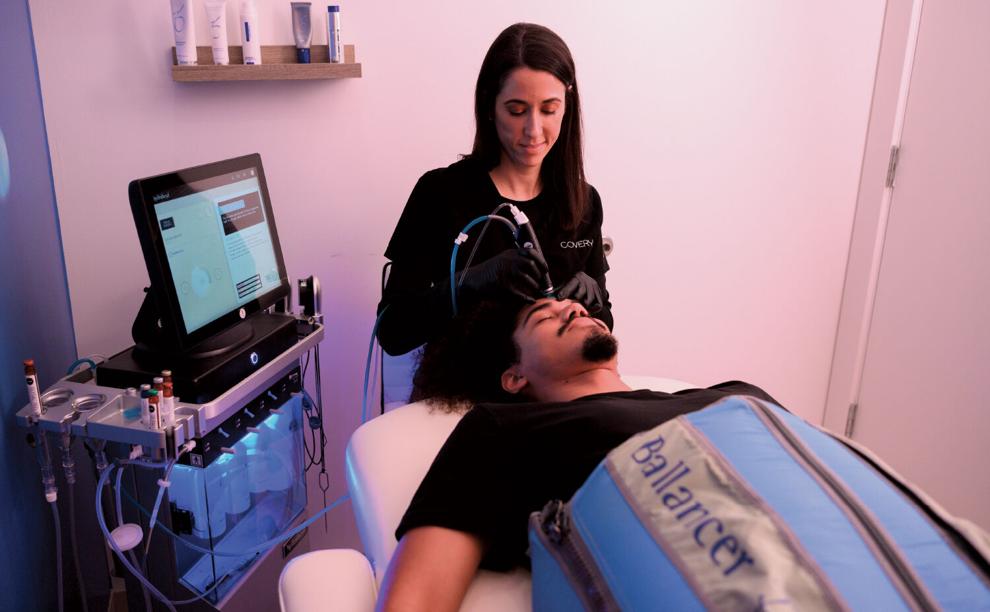 ---
And when customers test high for C-reactive proteins, which are known to increase with inflammation in the body, they're sent to the center's hyperbaric oxygen chamber and treated with red light therapy, which Casaburi noted is "FDA-approved for pain management and inflammation."
One treatment offered at Serotonin Centers is a pellet the size of a grain of rice that's inserted under the skin to slowly dispense hormones over a long period of time. "My own wife has been on hormone replacement therapy for four and a half years," said Casaburi, who's also the founder of Retro Fitness.
Serotonin Centers has one corporate location open and last year signed a five-unit franchise agreement with a group of medical practitioners in New Jersey who have units in the development stage. The membership-based start-up is headquartered in Windermere, Florida, and caters to an upscale clientele that expects "very high-end finishes" at the 3,000-square-foot stores. Memberships start at $199 per month. The investment range to own a Serotonin Centers franchise is $900,000 to $1.3 million.
Other franchises offering hormone-related services include Z Med Clinic, BodyLogicMD and BeBalanced Hormone Weight Loss Centers, which has more than 25 locations open.
BeBalanced requires high-skilled staff, including medical assistants, nurse practitioners, medical directors, health coaches, estheticians and "concierge" staff members who answer the phone and book appointments. Its investment range is $155,650 to $208,450.
—Callie Evergreen contributed to this article
---
Myths, Lore and Facts About Miracle Cures
The history of the search for miracle cures in America goes way back, to 1513 when Spanish explorer Juan Ponce de Leon departed Puerto Rico for the verdant island of "Bimini," an uncharted land in what is now the Bahamas. He landed instead in Florida, where he staked a claim for Spain.
As legend has it, Ponce was in search of the fountain of youth, "a fabled wellspring thought to give everlasting life to whoever bathed in or drank from it. But even this myth was busted when new scholarship in 2013 suggested he was interested not in longevity but political gain," according to Smithsonian Magazine. In either case, Ponce died at age 47 after being wounded by an arrow in a fight with an Indian tribe.
The pejorative term "snake oil" was coined after the arrival of Chinese laborers who came to build the Transcontinental Railroad in the mid-1800s. For centuries snake oil was a folk remedy in Chinese medicine, used to treat joint pain such as arthritis and bursitis, and the laborers likely offered it to their fellow workers.
Throughout the 19th century "snake oil salesmen" traveled the U.S. peddling solutions to all medical ills, with the "doctor" aided by a shill in the crowd who would call out how the ointment or tincture had solved every woe. Then they disappeared, well before anyone could find the potions to be worthless. Snake oil itself, however, has been found to be effective, according to Scientific American.
In "The Gilded Age," the Netflix show about high society in late 1800s New York, the ladies will knock back laudanum like millennials today guzzle turmeric-infused juice shots. Laudanum was "perhaps the Victorian era's most popular medicine," according to Pharmaceuticals magazine, "used to treat everything from pain and insomnia to female disorders. It was even used to quiet crying babies."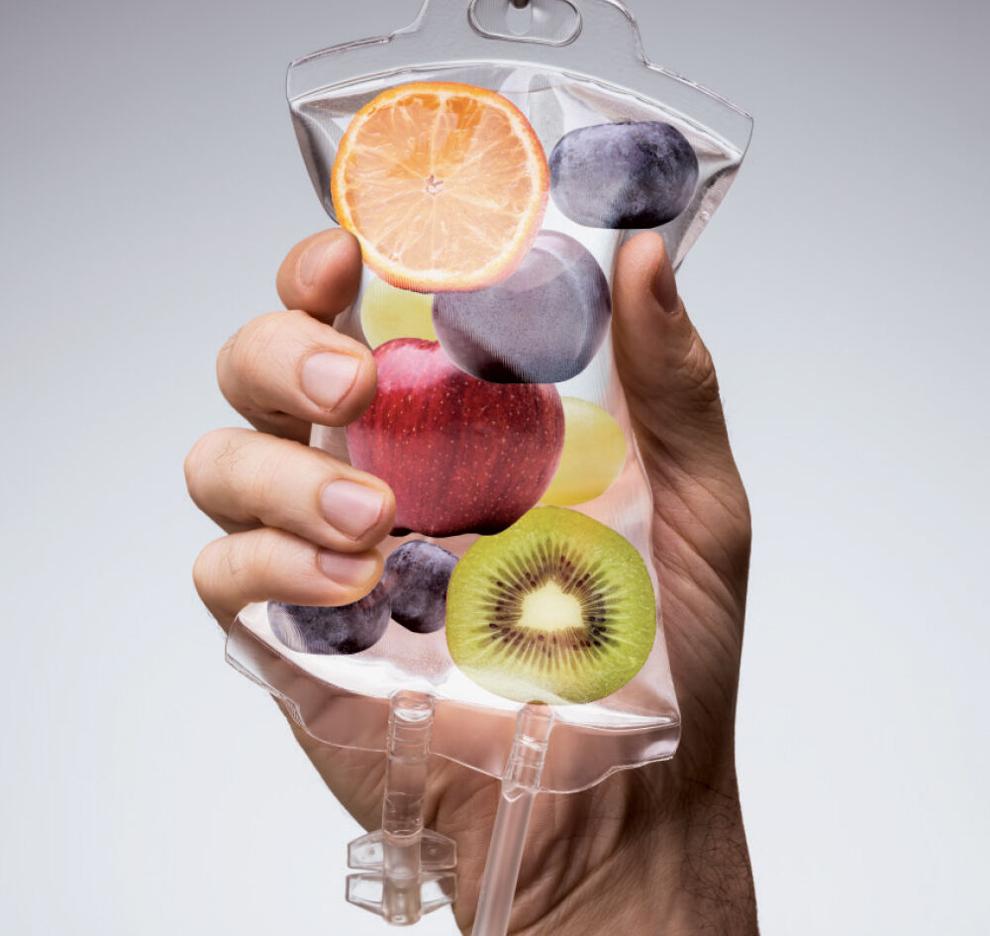 And no wonder it worked, since laudanum was a 10 percent solution of opium powder in alcohol. Opium comes from a poppy cultivated historically in Asia, and of course today is at the root of a tragic overdose epidemic.
And so the quest for miracle cures continues, with today's wellness purveyors touting a variety of studies, quoting a number of celebrities and showcasing a long list of clients that swear by their particular remedy and dismiss most of the rest. But they have to watch out for the Food and Drug Administration, the Federal Trade Commission and other regulatory agencies. As Upgrade Labs' founder Dave Asprey puts it: "You can't make medical claims. We don't diagnose or treat any condition. We just make you kick ass."
A men's health clinic that offers IV therapy touts the benefits of—you guessed it—IV therapy on sexual health without making any promises. "Stress, comfort food, and skipping out on workout routines can all combine to deplete your tissues of the vitality they need to function at their peak. And yes, those tissues too," its literature says, coyly italicizing "those."
Cryotherapy magazine claims Mark Wahlberg, Lebron James and Rafael Nadal "are just some of the mega-stars that use, and reportedly rave, about the therapy's virtues. It is said to reduce pain, burn fat, tighten skin, reduce cellulite and promote better sleep."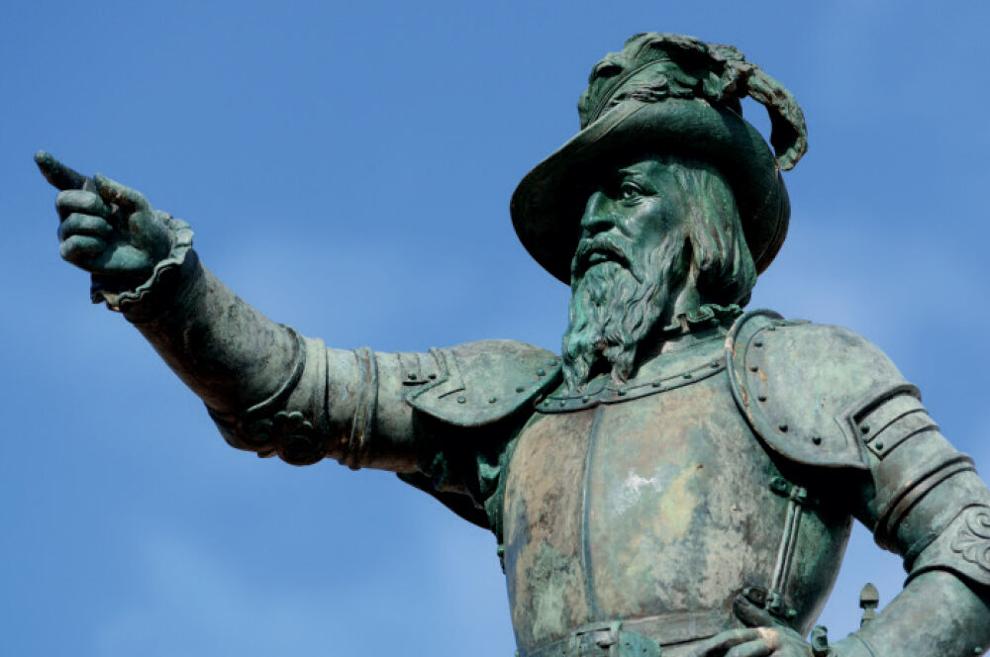 Even Mayo Clinic, a bastion of traditional Western healthcare, launched Mayo Clinic Integrative Medicine and Health in Scottsdale, Arizona. It includes practices "not traditionally part of conventional medicine, such as acupuncture, massage, yoga, dietary supplements, wellness coaching and meditation."
Then there's the cure for low testosterone being promoted today by Tucker Carlson, the Fox News host. A promotional video shows a naked man on top of a rock pile, "exposing his genitals to the red light issuing from what appears to be a waist-high air purifier. Something very like the theme from '2001: A Space Odyssey' plays in the background," the New York Times reported this March.
The article quotes Dr. John Amory, an expert on male reproductive health at the University of Washington. "It's notable that there is a long history of pseudoscientific treatments for low testosterone that have not proven to be useful over time," he told the New York Times.
Just like Ponce de Leon, though, humans will keep trying.
—Beth Ewen
---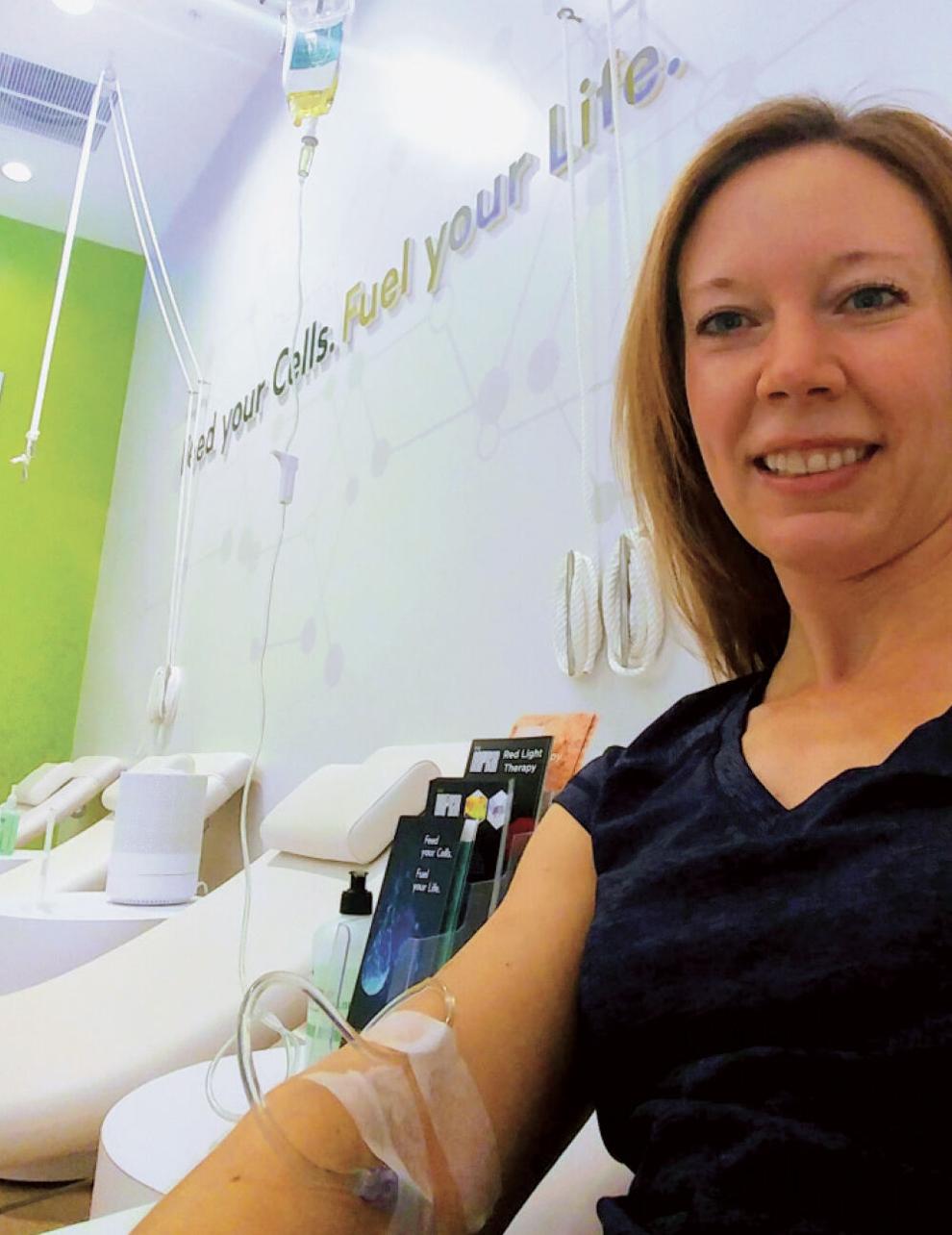 DripBar Offers Soother IV Drip True To Its Name
High in magnesium, the Soother IV drip "might make you feel like you've had a glass or two of wine," said DripBar franchisee Hollie Gilbert as the nurse prepared the 250 mL bag. Indeed, moments after the blend of magnesium, B vitamins, zinc, vitamin C and other micronutrients entered my veins I felt warm, flushed and utterly relaxed.
Meant to ease tense muscles and support stress relief, the Soother worked as advertised while I sank into a comfortable chaise lounge and snapped a few selfies. Though the immediate rush of intoxication dissipated, the general feeling of relaxation persisted for hours. And, as Gilbert noted as a possible benefit, I slept soundly that night despite being on the first leg of a work trip in Orlando, Florida.
The only customer on a Sunday afternoon at the Lake Nona location, my visit took less than 30 minutes after filling out some medical forms online. All drips are administered by a nurse; franchisees don't need to have a medical background.
Gilbert came from the hospitality sector, she told me, and it was while on furlough during the COVID-19 pandemic that she discovered the Rhode Island-based concept. She operates two locations and is the area representative; DripBar has 24 units open in 12 states.
As its name suggests, DripBar specializes in IV drips, which it divides into "lifestyle" and "health support" categories, with purported benefits ranging from improved energy levels to even reducing the side effects of chemotherapy. The Time Machine drip, meanwhile, is touted as a "foundational piece of anti-aging therapy." But then there's this note in the online description: "You will not actually travel back in time, nor will you literally experience reversal of chronological aging. There is no single treatment that is proven to retard aging. All 'anti-aging' claims are based on basic science evidence and the opinion of doctors and scientists."
Without the 50 percent discount as a first-timer, my DripBar IV had a price tag of $179. Membership plans are available, starting at $149 per month.
While I wouldn't become a regular, the cost might be worth it for a good night's sleep during work travel. Or I'll just have a couple glasses of wine.
—Laura Michaels
---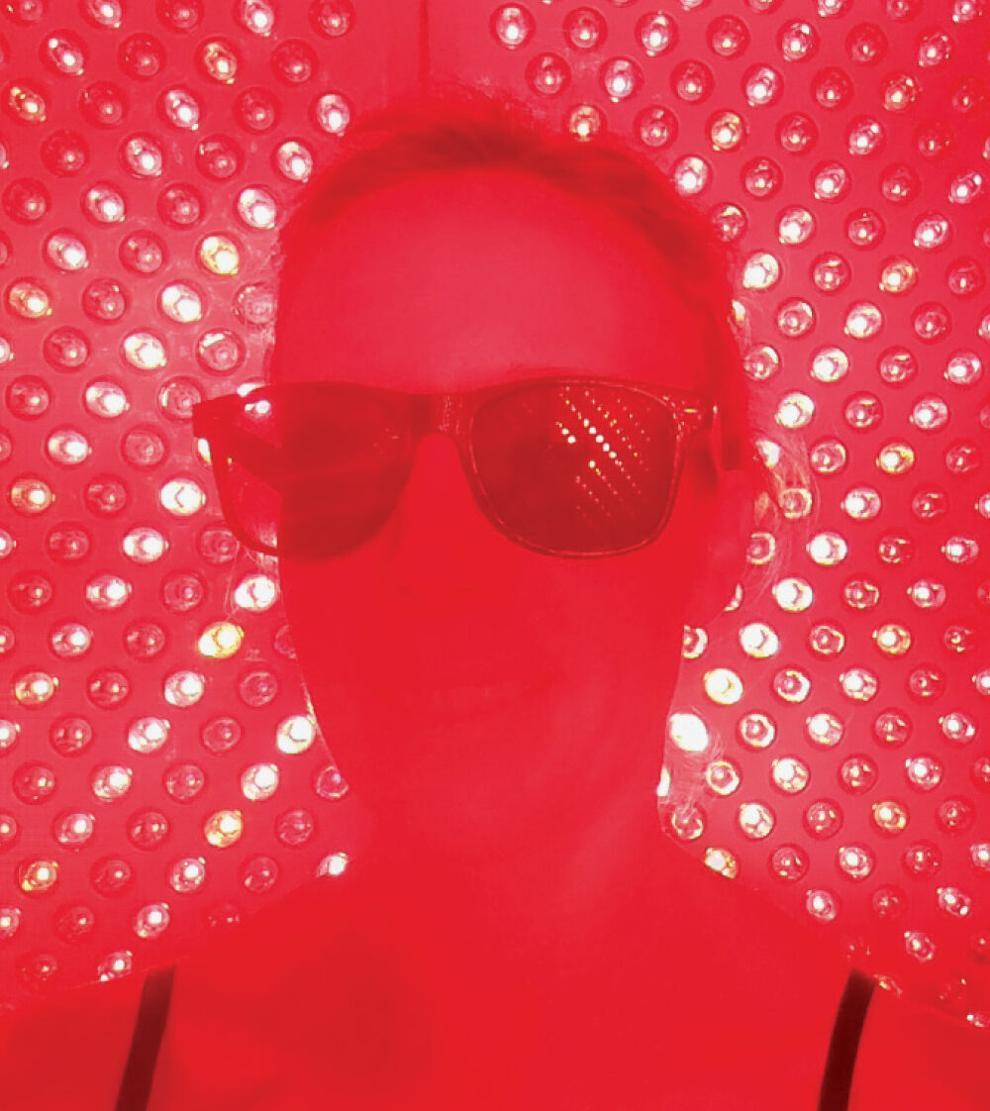 Restore's Cryotherapy & Infrared Services Deliver
Clad in a robe, mittens, slippers and ear warmers, I was warm and cozy. By the time I stepped out of Restore's full-body cryotherapy chamber, however, my skin surface temperature was a cool 45 degrees—still 115 degrees warmer than the minus 160-degree Fahrenheit chamber. Frigid, yes, but the 2 minutes I spent amid the electronically cooled air (Restore's proprietary electric whole body cryotherapy chamber doesn't use liquid nitrogen) were surprisingly not as miserable as I anticipated.
While I didn't feel as though I could bust through a brick wall, as a colleague described feeling after his own cryotherapy experience resulted in a major energy boost, the sense of revitalization was immediately apparent. Even running on roughly five hours of sleep, which under normal circumstances would border on debilitating, the alertness lasted all day thanks, I was told, to the oxygen-rich blood circulating back through my body after the sub-zero temperatures constricted my blood vessels to redirect blood to my core. Or could it have been the extra two cups of coffee? Perhaps.
A host of health studies note cryotherapy could elicit an energy spike and may reduce soreness and chronic pain. Restore also offers localized cryotherapy treatments, which I would love to test against my sometimes-severe carpal tunnel syndrome symptoms. Members can purchase single full-body sessions for $27; retail price for a cryotherapy session at Restore is $42.
A complementary service to cryotherapy, red light therapy came next, and while not quite as warm as a sweat session in the infrared sauna, the combo of red and infrared wavelengths created a downright balmy environment. Also known as PBM, or photobiomodulation, red light therapy is thought to promote healing and energy by enhancing the body's mitochondria, aka the powerhouses of our cells.
Though relaxing for sure, it wasn't as if I could feel these tiny organelles going to work. There is science that supports claims of inflammation reduction, improved blood flow and more with repeated exposure. Cue the membership model. But Restore, noted CEO Jim Donnelly, "is not a hard-sell environment." Instead, employees are trained to guide customers to services and packages best suited to their individual wellness goals, he said. "And what better thing to do than invest in you feeling better." Touché.
—Laura Michaels
https://www.franchisetimes.com/franchise_times_cover_stories/why-new-age-wellness-franchises-are-flying-high/article_5d25ab00-d77f-11ec-9ff8-4f072b6a4517.html