FAIRFAX COUNTY, Va.—Parents protested on Thursday Fairfax County Public Schools' latest pro-transgender push to include gender identity topics in elementary school sex education and new rules to discipline students who don't refer to a transgender person by the person's preferred name or gender, whether accidentally or intentionally. These changes may be up for a school board vote in June.
If approved, "malicious deadnaming" and "malicious misgendering" will be gender identity-related offenses that could lead to up to five days of out-of-school suspension and referral to law enforcement for elementary school students.
At the Thursday board meeting, Fairfax County mother Misty Lombardo urged the school board to host an in-person town hall to discuss the proposed changes to the student roles and responsibilities handbook before voting.
"We send our children to your schools to receive an education, not to be indoctrinated by your political beliefs," she told the board members. "Stop attempting to usurp the role of the parent in our children's lives. Raise the educational bar, respect the United States Constitution, and just teach your children how to read, write, and do arithmetic."
Meanwhile, the county Family Life Education Curriculum Advisory Committee (FLECAC) recommended that the school board include gender identity topics in the elementary school sex education curriculum, formerly Family Life Education (FLE). This proposed change followed a similar move in 2015 when Fairfax County Public Schools (FCPS) added transgender topics to the FLE curriculum for grades 7 through 10.
The new FLECAC recommendations may be voted on June 30 for implementation as early as this fall. FLECAC is a committee composed of teachers, school-based administrators, central office staff, and community members appointed by the school board, administration leadership team, and the county health department.
The FLECAC also recommended combining current boys' and girls' lessons into "gender combined" sessions and revising objectives for grades 4 to 7 to refer to boys and girls as "male and female assigned at birth" and puberty as something "experienced by most individuals."
"What's happened is that activists around the country are not only going after the minds of children, but also now their bodies, and they're doing it at the earliest ages. They are sexualizing children," Asra Nomani, a senior fellow at a conservative non-profit Independent Women's Network, told The Epoch Times.
She added, "They are forcing children to make choices about gender and sexuality that they cannot even understand. They are targeting children who are 5-year-olds and 6-year-olds about complicated issues when they can't even brush their teeth. And this is a crime against humanity."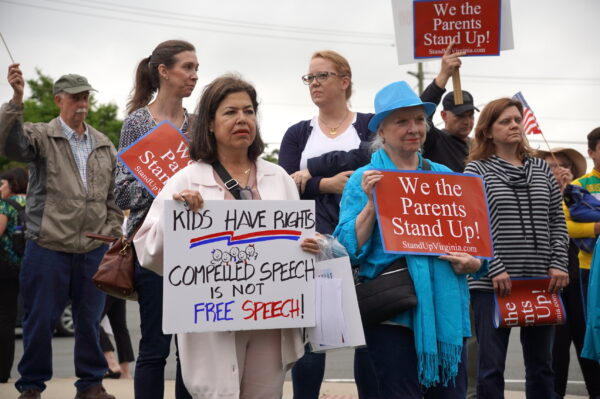 At the previous school board meeting on May 12, Willow Woycke, board member of the Transgender Education Association and a FLECAC member, said that gender combined sessions would help trans students as well as cisgender and heterosexual students.
"FLE is a health class," Woycke said. "People who are afraid of FLE have the option to opt their children out. People who are afraid of FLE will always criticize what is taught, no matter what is taught in FLE, or how it is taught."
Fairfax County resident Kathleen Gillette-Mallard told The Epoch Times that the county's FLE curriculum "sexualizes children and grooms them." In addition, "[FLE] normalizes the abnormal." Gillette-Mallard recently retired from her education program support job at the University of Virginia Falls Church campus.
ParentAndChild.org, a Fairfax County parents group that started in 2015, reviews the county's FLE curriculum each year.
According to the organization's director John Murray, some of the county's FLE curriculum lessons were good. The group gave "green" review marks over a dozen of the 2021–2022 lessons, a color that indicates that the lesson content is "acceptable to most parents."
However, when looking at all FLE lessons as a whole, Murray finds "almost no discussion on why you would want to get married and have children, of these 74 lessons about human sexuality." In his view, the FLE curriculum encourages sexual relationships instead.
Although the FLE curriculum first caught his attention in 2015 when transgender topics were added to middle school, through his ten years of working with a local pregnancy resource center, he said he saw the results of such sex education beyond just transgenderism: out-of-marriage pregnancies, single motherhood, and increased sexually transmitted diseases.
Before retirement, Murray worked in emergency management for the federal government. He is also a retired Lieutenant Colonel who flew for the Air National Guard for 20 years.
He said that FLE shouldn't be blamed as the sole cause of problems in students exposed to many societal influences. But "school is a place where students learn the truth," said Murray.
"It [the FLE curriculum] is going to basically lead you in the wrong direction," he told The Epoch Times. "And for a school system to do that, it's inexcusable."
The Epoch Times has reached out to Fairfax County Public Schools for comment.
https://m.theepochtimes.com/no-to-gender-politics-virginia-fairfax-county-parents-protest-pro-transgender-elementary-school-push_4492594.html